The Degree of Patriotism
Another degree open to members of the Knights of Columbus is that of the Fourth (or Patriotic) Degree. On February 22, 1900, the first exemplification of that degree was held in New York City. The ritual added patriotism to the three original principles of the Order: charit, unity and fraternity. Any Third Degree member in good standing, one year after the
anniversary of his First Degree, is eligible for membership in the Fourth Degree.
The primary purpose of the Fourth Degree is to foster the spirit of partiotism by promoting responsible citizenship and a love of and loyalty to the Knights' respective countries through active membership in local Fourth Degree groups called assemblies. Fourth Degree members must retain their membership as Third Degree members in the local council to remain in good standing.
Certain members of the Fourth Degree serve as honor guards at civic and religious functions, an activity which has brought worldwide recognition to the Knights of Columbus organization.
The Knights of Columbus, an array of dedicated Catholic gentlemen, glory in the epithet.
"The Right Arm of the Catholic Church"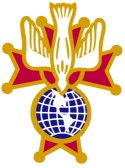 Sir Knights of the Forth Degree, deem it an honor and privilege to carry our TRIAD EMBLEM, which features The Dove, The Cross, and The Globe. Our Honored Order cherishes as its Patron, Christopher Columbus.
Christopher Crist-Bearer, Columbus; Dove of Peace, symbolizing the Paraclete. And, as the Cross of Christ is the sign of our Christian faith, similarly, the Globe Depicts the New World, the miraculous discovery of Columbus.
Spiritually, the sacred symbols fashioned on our sword and lapel pin, typify the union of the Three Divine Persons in one Godhead The Most Holy Trinity.
The Globe God the Father, Creator of the Universe.
The Cross God the Son, Redeemer of Mankind.
The Dove God the Holy Spirit, Sanctifier of Humanity.
God willing, may we, Christian Soldiers in the Columbian Crusade, lend loyalty to Our Honored Order, patriotism to our beloved  America and devotion to Holy Mother Church  all, for the Greater Glory of God Almighty.
Membership in the Knights of Columbus is open to men 18 years of age or older who are practical (that is, practicing) Catholics in union with the Holy See. This means that an applicant or member accepts the teaching authority of the Catholic Church on matters of faith and morals, aspires to live in accord with the precepts of the Catholic Church, and is in good standing in the Catholic Church.